Preparing Undergraduates for Research in Stem-related Fields Using Electrophysiology
PURSUE is a collaborative initiative to facilitate the training of undergraduates in cognitive electrophysiology.
Our website contains instructional tools and teaching materials to guide educators in developing curricula for EEG/ERP classrooms and lab environments.
About the Primary Investigators
The Primary Investigators (PIs) have organized a group of experts in cognitive electrophysiology and assessment who embrace a student-centric approach to education that inspires student-faculty research collaboration. Each PI has substantial experience teaching ERP methodology at an undergraduate level as part of cognitive neuroscience courses, semester-long laboratory courses, and in their research labs.
Dr. Cindy M. Bukach
University of Richmond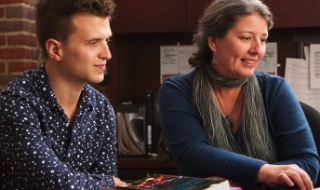 Dr. Bukach is an associate professor of cognitive neuroscience and MacEldin Trawick Endowed Professor of Psychology at the University of Richmond, Virginia. 
Dr. Jane W. Couperus
Mount Holyoke College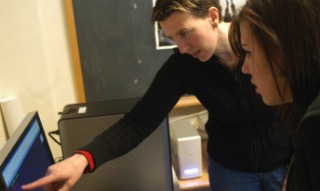 Dr. Couperus is a professor of developmental cognitive neuroscience at Hampshire College and Visiting Professor at Mount Holyoke College, Massachusetts.
Dr. Catherine L. Reed
Claremont McKenna College
Dr. Reed is the McElwee Family Professor of Psychology & George R. Roberts Fellow Professor of Psychology & Neuroscience at Claremont McKenna College, California.
About our Education Materials
Learn about some of the more complex mechanisms behind EEG/ERP data collection. Our animation series feature EEG signal generation and EEG data visualization.
Our interactive simulations explore EEG waveforms by modeling changes in the position, distance, and orientation of the neural source compared to the electrodes.
This series of videos helps guide the learner through the four phases of EEG/ERP Lab procedures. Our videos cover preparation, capping, data collection, and data analysis.
Our introductory and full semester class modules are evidence-based and learner-centered. Ideal for undergraduate education, these materials can be flexibly implemented for any environment.
Our lab modules are designed to be used in a full semester course. These modules include lab worksheets, video walkthroughs, educator notes, and more.
Our data sets contain results from six classic ERP experiments. Use these data to explore classic ERP components and test authentic research questions.
Funding for this project has been provided by the National Science Foundation, the Association for Psychological Science, and the 2015 Scholar Award for Understanding Human Cognition awarded to Cindy Bukach by the James S. McDonnell Foundation.